There's no better way to make your wedding super-personal than to share specialized vows…but maybe you're stumped on what to say. We've got you covered with ideas to find free wedding vows!
Of course, the best free wedding vows are the ones you write yourself. Even if you don't think you write well, this is one area in life where you won't be graded or judged on it (we promise!) – just write from the heart about what makes your future spouse amazing.
An easy way to write your own vows is to think of it like a story, where there's a beginning, a middle and an end. Share how you first met (the beginning), how you knew they were the one for you (the middle) and what you want to share together or look forward to in your marriage (the end). This is a winning formula that shows the history of your relationship, and the bright future you're creating together.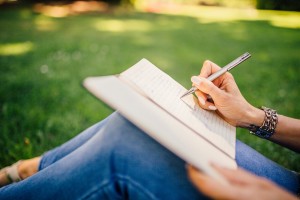 Once you have that basic structure in place, you can add in a few other comments to make it more interesting. Mention something they're known for – one of their talents, a good or bad habit (as long as it's not something they're sensitive about, or has created an argument between the two of you in the past!) – and why it's something you love about them. Tell a (short) story about something heartfelt or funny that shaped your relationship, or how you looked at your future spouse. And don't be afraid to throw in an inside joke or two – something that only the two of you, or just a few people at your wedding, will know about.
Want more ideas for free wedding vows? Get some inspiration here:
One more thought on free wedding vows: If the thought of sharing too much emotional or personal information in such a public setting makes you uncomfortable, consider writing a ceremony version and then recording a much more heartfelt set of vows to share with your new spouse later as a surprise! The Weddeo app helps you easily capture and upload this footage through your smartphone – learn more about how Weddeo works.