Looking for a good wedding workout? You're in luck – we have a great post with some easy workout tips from fitness coach Emily Seltz! Read on to learn how to do your new wedding workout!
---
Congratulations on your upcoming wedding day!
Let me begin by saying that you are the apple of your fiancé's eye, and he adores you just the way you are!
Maybe you have some personal fitness goals that you would like to achieve before saying "I do"…I am here to share some easy tips to help you accomplish just that and rock your wedding dress.
Follow these steps to ensure that when you walk down the aisle, you will be happy, healthy and fit.
Hydrate! Be sure to drink enough water. Start your day by drinking an 8 oz. glass of water. Keep it going throughout the day. 8 – 10 glasses! Be sure to keep water on hand at your desk, in your car, by your nightstand, and in your refrigerator. I am a big fan of lemon water. By adding a simple lemon wedge to plain water you can reap the benefits of this drink and stay hydrated. Note some of the amazing benefits of lemon water: boosts your immune system, balances pH, flushes out impurities, reduces bloating, reduces sugar cravings and aids in digestion.
Commit to a wedding workout plan. A goal without a plan is just a wish. You have to work for it to earn it, right? There are countless workout plans to follow. You can join a gym, a run group, buy a DVD fitness program, or simply lace up your shoes and start walking 30 minutes a day. Small steps lead to bigger steps and bring you closer to your wedding day goals. I will give you a free workout plan at the end of this post! Stay tuned.
Partner up. It is good to have an accountability partner for your wedding workout. Find a like-minded friend to support you throughout your fitness journey. If your fiancé likes to work out, then plan workout dates! Nothing better than sweating with your loved one and encouraging one another together.
Think of food as fuel, not a reward. You would never add water to your car instead of gas, right? Of course – that would just cause havoc and ruin your ride! You are a beautiful creation and you must take care of yourself just as you would a prized automobile. Daily intake of proper nutrition is crucial to your health. Eat the colors of the rainbow. Add lean proteins. Stay away from processed foods, sugar and bad fats as much as possible. Remember that alcoholic drinks can secretly pack on the pounds. Eat everything in moderation and think about your portion sizes. Abs are created in the kitchen!
Sleep is your best friend. Wedding planning can be really time consuming. Add to that your personal life, job, family, etc. Life can keep you busy. Getting proper sleep will not only help you be a more productive person during the day, but will also allow your body to heal and repair during the night. Your muscles need to rest. This is part of your plan to get fit! Don't forget to get your beauty sleep!
Sweating for the Wedding Workout
Follow this schedule to get started!
Sunday: 30  Minutes Cardio Burn – Your choice!
Monday: 25 Jumping Jacks, 25 Push Ups, 25 Bicycle Crunches, 25 Burpees (repeat 3 times)
Wednesday: 30 Minutes of Cardio + Abs
25 Flutter Kicks, 25 Crunches, 25 Double Leg Lifts  (Heels do not touch the ground) 25 Second Plank
Thursday: SCULPT your ARMS: need hand weights (5 – 12 pounds)
Bicep curls: 4 sets of 10, Tricep kickbacks: 4 sets of 10, Lateral raises: 4 sets of 10, Shoulder Press 4 sets of 10
Friday: Plank day! 5 Minute Wedding Workout.
1 MIN Hold High Plank
1 MIN Elbow Plank
1 MIN Side Plank Right Then Left
1 MIN Hold High Plank
DONE!
Saturday: 40 Minutes Cardio Burn – Your Choice!
Sunday: REST
Enjoy your journey! You can do this bridal bootcamp!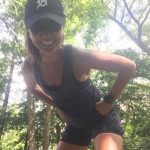 A HUGE thanks to Emily Seltz, a certified P90X & Insanity Live Instructor, Independent Beachbody Coach and Group Fitness Leader. For more information about how you can stream FREE workouts on Beachbody on Demand or learn about how she can get you started on a very easy-to-follow workout and meal plan, email Emily at emilyfitfocus@beachbodycoach.com.