Forget the high-end espresso machine and luxe luggage, the best group wedding gift comes with a little love that will last a lifetime. Weddings are so very special and the best way to make sure your besties get hitched in classic style is to make sure their day is totally all about them! What better way to make the big day all about the happy couple than to give them a gift that comes from the whole wedding party's heart.
Give A Gift That Will Last A Lifetime
Budget is often the biggest thing that holds a couple back from booking a wedding videographer. Brides across the country are getting high quality, HD wedding videos that are professionally edited for less. Why? It's simple. You make your wedding party and guests the wedding videographers. They know you best, right? Why not have them film every single beautiful, candid moment on your big day? The best part is that this affordable path to wedding videography makes for one of the best group wedding gift for the bride and groom. Weddeo is simple and hassle-free wedding videography that gives you loads of options to capture the big day. Choose from packages that offer HD cameras, professionally-edited video on DVD, easy one-click sharing of your video for social media, a free app for your guests to share even more footage! The best part is the bride and groom will get their family and friends' original raw footage, unlimited angles, and unlimited uploads.
Slyly Find Out Their Style
If you're super savvy and sly you should go on a top-secret mission to find out just what the bride and groom might want. Slip certain things into the conversation to find out just what kind of wedding video they might want to cherish. You can make it into a music video, a fun timeline of engagement to 'I do', or even just a straightforward movie of everything wedding day bliss. No matter what your friends or family might want, you can usually get them to talk about the wedding video of their dreams with a few prompts like "Are you going to book a wedding videographer?" "Do you want a wedding video?" "What's your dream wedding video?" "Wouldn't it be cool if…" then let the bride or groom fill in the conversation with their own wishes.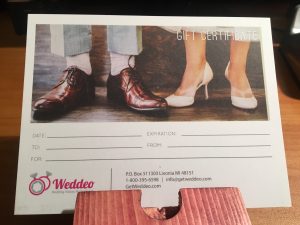 Pool Your Money
Get together and pick a reasonable price for everyone to donate. You don't have to all donate the same amount. Some people make different ranges of money and might find a large amount straining on finances. You can do a blind donation as to not make anyone feel bad and pool all the friends together to keep costs to a minimum. Just be honest with one another about how much wedding videography you can really afford. This is the exact reason that Weddeo really is the best group gift option when it comes to celebrating your friends or family. We'll work with you to help you pick the perfect package and give the best group wedding gift ever.
Pick The Perfect Package
The editorial experts and wedding aficionados at Weddeo want you to get exactly what you want. That's why we can help you better understand exactly which package is perfect for the bride and groom in your life. You can check out the packages here https://getweddeo.com/wedding-videography-packages-and-pricing/. Don't be afraid to call us up and discuss exactly what you want and what you would like to gift. We can help you figure out which package is perfect for your bride and groom. Pooling together to make your happy couple's wedding dreams come true is totally easy with our amazing wedding videography.