Whether you're the Maid-Of-Honor, Best Man, or even the Father of the Bride, you might be expected to come up with an array of original, entertaining, and funny wedding toasts. For the public-speaking guru's this may seem like a no brainer, but for the rest of us, there are some simple rules to follow.
Make It Personal (But don't get too crazy)
Your first instinct might be to jump right into a favored childhood memory. I mean, this IS your loved one you're talking about. Feel free to talk about that one time that Jane said all boys had cooties while digging in the mud. Or when Mike decided to take his diaper off and smear it across the living room carpet. Personal stories and memories add flavor and personality to funny wedding toasts, but there ARE some limitations. Knowing how much detail is enough is the key to formulating a funny wedding toast. Jane's 'digging in the mud' story might be funny, and useful, but the entire reception doesn't need to know what color socks she was wearing.
Remember Your Audience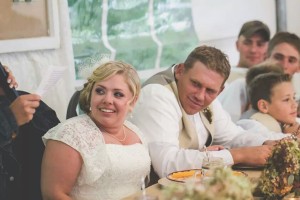 Sure, these funny wedding toasts are ultimately for the bride and groom. But don't forget that there is a room full of people listening as well. Mentioning a catch-phrase that only you and the groom could possibly understand is not necessarily something that will get the crowd laughing. Incorporating 'inside jokes' in funny wedding toasts is not completely forbidden, though. Find a way to give enough explanation so that the entire room can feel included.
Corny Jokes are funny too!
One-liners about marriage tend to be a crowd favorite. When thinking of funny wedding toasts, you might reference the jokes that are seemingly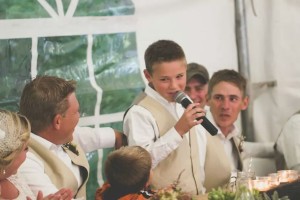 corny or play directly into the stereotypes surrounding marriage. Although your initial reaction might be to disregard these particular funny wedding toasts, you should remember that corny jokes, and references that point to relatable and familiar experiences are almost guaranteed crowd pleasers. Here are a couple of examples:
"If a man speaks in the forest and there is no woman around to hear him, is
he still wrong?"
"Marriage means commitment. Of course, so does insanity."
I got these examples from: http://www.keepandshare.com/htm/wedding_planning/wedding_toasts/C03_funny_wedding_toasts.php
Be Yourself
Although entirely cliché, this may be one of the most important points of all. If you're writing numerous funny wedding toasts and find that you're consistently deviating from your true personality, scratch the idea. No matter what you do, you want to make sure that you are staying true to your personality and not straining to be someone that you're not. Regardless of how funny, serious, or entertaining your toast might be, it is important that it is genuine. The bride, the groom, and the rest of the reception might even appreciate a heart-felt and honest response more so than a forced attempt at being funny. If you're the type of person that would typically cause someone to crack a smile, then go for the funny wedding toasts. But if that is something completely outside of your comfort zone, then stick with what works for you. It will not only make YOU feel more comfortable, but everyone else listening as well.