Today we're excited to show you the modern rustic Michigan wedding of Amanda + Michael!
Michael proposed to Amanda on Cass Lake in West Bloomfield, Mich.; here's the story from Amanda:
We had made plans to go paddleboarding one evening… There was a guy you could rent paddleboards from, but by the time we go there he was already gone for the day. We were disappointed but decided to just go on a walk through the nature trails. 

After our walk we decided to sit on the dock with our feet in the water and watch people fish. As we were hanging out and talking, [Michael] told me how much he loved me and popped the big question! A total stranger who was sitting on a bench behind us saw Michael take the ring out of his pocket and grabbed his phone to take pictures for us. After we had our moment he came up and shared the sweet photos he was able to capture! It was so nice and we are grateful to have had that memory captured. 
This adorable couple had such a personal and intimate wedding; held at The River Church in Holly, Mich., their wedding featured a navy blue color scheme – an homage to the sapphire stones in Amanda's engagement ring – with pops of red, Michael's favorite color. Wooden elements with carved hearts and other similar notes set the theme for a modern rustic Michigan wedding, inspired by their wedding invitation.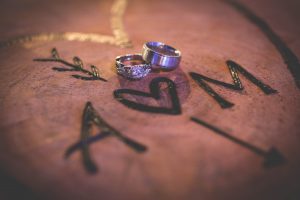 In fact, this theme was incorporated in a really cool way during the ceremony: Instead of the traditional unity candle or pouring sand together, the couple used a wood-burning tool during the unity ceremony to further shade in a heart that Amanda had hand-carved with their initials into a sliced round of wood. Then, at the reception, they flipped it over for their family and friends to sign as their guest "log"! (Get it?? I love puns!)
Amanda and Michael's wedding project had a special significance for us: After a tech mishap resulted in them losing more than half of their professional photographs, it became more important than ever for us to make sure they had an amazing wedding video to look back on!
In addition, their guests captured and shared a few still photographs through the Weddeo app, providing them with at least a few more photos to add to their wedding album. (Did you know that you can capture both video AND photos with the Weddeo app?)
Amanda's favorite part of the day was their first look – as she put it, "It was just the two of us (and our photographer, who I totally forgot was there at the time!) and we were able to take some time on our special day to just enjoy the moment. Your whole wedding day flies by, but it was so sweet to have 15 minutes just to ourselves to stop and cherish the moment."
We totally agree, Amanda! And on behalf of the Weddeo team, we wish you and Michael a very happy and blessed marriage, and that you'll be able to relive the wonderful memories of your day over and over again through your videos. Congratulations!
Watch Amanda + Michael's wedding video highlight here.
---
Want to capture all of the amazing memories of your own wedding day? Learn more about how Weddeo works!