"Affordable wedding videography" can often be thought of as a mythical creature in the bridal world. When it comes to the cheapest wedding ideas, wedding videography doesn't always make the cut. It's often the first thing you axe when it comes to trimming your budget because things like flowers and photographer can seem more important. What if you could get high-quality wedding videography for less without sacrificing taste and ambia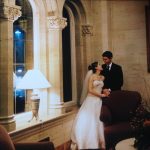 nce for your style wedding? Most brides think that DIY can be a hassle, but what if you put the recording in the hands you love and can still enjoy every sweet moment of your big day?
For The DIY Bride
Your wedding video is just as important as capturing your wedding in photography. Wedding videos give you the privilege of reliving the best day of your life that always seems to go by so fast. With the hustle and bustle of getting ready and getting your look perfect, to the pressure of the first look and photography, things can seem to get away from you. Next thing you know a friend is telling you about a hilarious moment that you missed. You won't miss a moment with Weddeo. The best part about Weddeo is that once the big day is over we help you edit with a magical touch from our team of professional video editors.
The Choice Is Yours
Weddeo offers packages for every kind of bride and groom! Packages range from: 
Weddeo app

Capture from "Will you?" to "I do" (honeymoon too!)

Your family and friends' original raw footage returned to you, all in one place!

All of the stories of your big day – unlimited angles, unlimited uploads

Free app for all of your family & friends
To more exclusive options like: 
4 HD cameras + app

60 minutes and up of professionally-edited video on DVD

Easy one-click sharing of your video for social media

Up to 8 hours of filming time

Free app for your guests to share even more footage!

Additional DVD for parents, in-laws or friends

All your raw footage

Highlight video for sharing online with friends and family
Capture Every Moment
When you hire a professional wedding videographer you usually get wedding highlights like your dress hanging with your shoes, a first look or first dance. With Weddeo you can capture every moment from getting ready with your bridal party to your favorite uncle cutting a rug on the dance floor, the last dance of the reception and your epic send-off. Your story isn't told by a stranger, it's told by the amazing people you've asked to be part of your big day. No one knows you better than the people you love, and what could make your wedding story better than having those people record every kiss, every dance move, every loving moment shared with your new partner in crime.
Weddeo offers the happy couple a stress-free wedding videography option. We truly want you to enjoy your special day and record every romantic, hilarious and touching moment at a price you can actually afford. When it comes to wedding must-haves and priceless memories we help you make them both happen!
Learn more about our affordable wedding videography